Dodge Electric Cars? A True Electric Supercar, It Is As Good Looking As It Is Fast...
The new range of Dodge Electric Cars now includes a superb looking car, the Dodge EV...
Not content with the best looks but the best electric supercar with the Dodge EV.
Who thought that future roads would be covered in 1 seater fugly electric cars that look like motorcycles?
Not Dodge, apparently.
The 200 kw [268 hp] DC motor drives the rear wheels with 480 foot lbs of torque, through an integrated transmission.
That allows this machine to achieve speeds of 100 kmh [60 mph] in less than 5 seconds, and a top speed of more than 120 mph.
This equates to a quarter mile in less than 13 seconds.
This is all achieved with a range of 150 to 200 miles.
This is powered by a Lithium Ion battery pack that provides 420 volts and 26 kwh, and this is rechargeable in 8 hours from a standard 110 volt or 240 volt power point.
All this is provided for 2 passengers in comfort and safety, as the Dodge includes the latest safety features as standard, including regenerative braking ...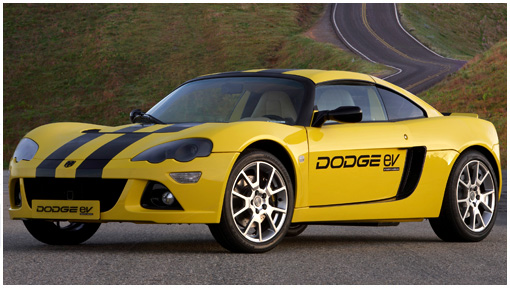 Leave Dodge Electric Cars For Home...